We circled back onto the midstream LP high-yield trail this week to cover Summit Midstream Partners LP (SMLP), one of many midstream companies we've written articles about.
Profile: Formed in 2012, SMLP provides natural gas, crude oil and produced water-gathering services, primarily via long term, fee-based contracts with its customers in these five unconventional resource basins:
– The Appalachian Basin, which includes the Marcellus and Utica shale formations in West Virginia and Ohio.
– The Williston Basin, which includes the Bakken and Three Forks shale formations in North Dakota.
– The Fort Worth Basin, which includes the Barnett Shale formation in Texas.
– The Piceance Basin, which includes the Mesaverde formation as well as the Mancos and Niobrara shale formations in Colorado and Utah.
– The Denver-Julesburg Basin, which includes the Niobrara and Codell shale formations in Colorado.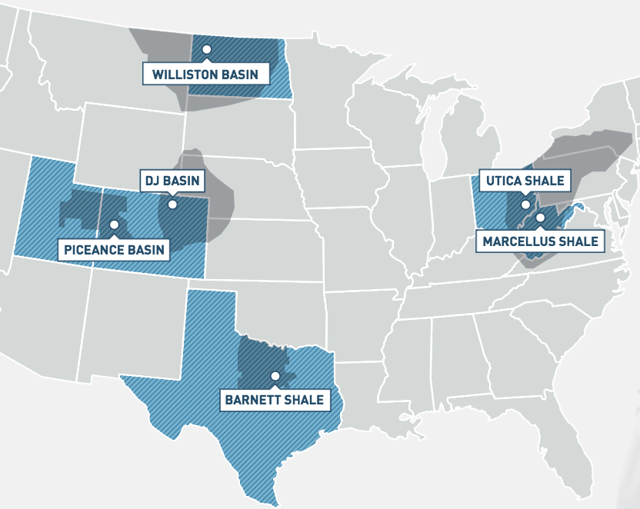 (Source: SMLP site)
SMLP reported its Q3 '17 earnings last week, and the revenue and net income growth were robust year over year: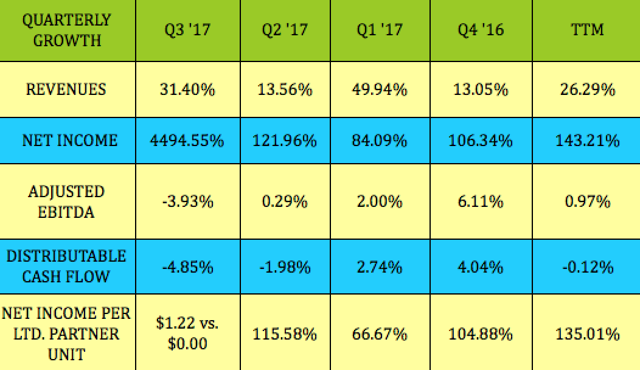 Revenues, net income and EPU all hit company records, while EBITDA and DCF were down -4% to -5% vs. Q3 '16, but improved sequentially vs. Q2/17: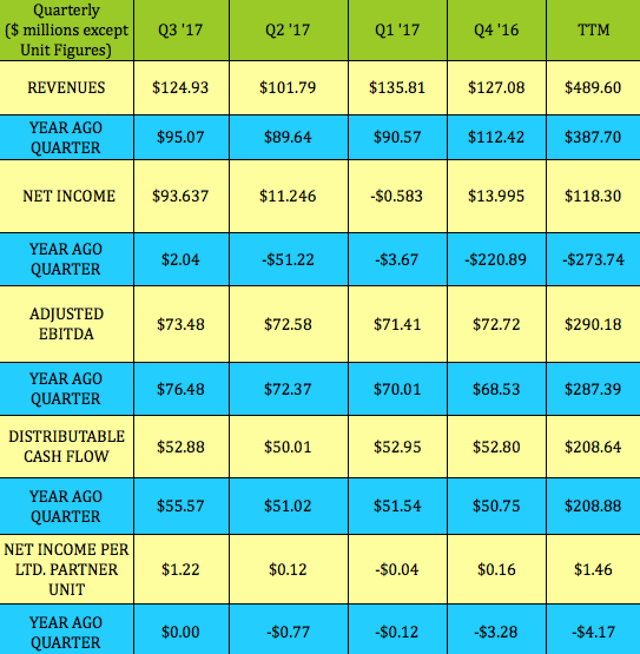 SMLP has had good revenue growth in its Utica, Williston, Piceance/DJ, and Marcellus segments in 2017:

However, this didn't translate into EBITDA growth in the Ohio, Williston and Barnett segments, where some customers delayed completing new wells in Q1-2 '17. The Ohio segment improved in Q3, but Williston and Barnett still lagged Q3 '16 figures.
Management was upbeat though about Q4 activity thus far for its Williston, Barnett and Utica segments on the Q3 earnings call.
"We have already begun to see completion activity accelerate in the fourth quarter of 2017 from a number of customers across several of our gathering systems, including in the Utica, Williston, and Barnett. We continue to expect that these activities will lead to volume and cash flow growth across these assets throughout the rest of 2017 and into 2018.":

"Total operated natural gas volumes averaged 1.83 bcf a day in the quarter, a new record for the Partnership, and a 2.6% sequential increase over the prior quarter. Gathered volumes for SMLPs Ohio gathering JV Utica averaged 763 million cubic feet a day in the third quarter, up 8% over the second quarter '17."

"This was primarily due to the completion of more than 20 wells across OGC system in July and August. Natural gas throughput on our operated asset was led by the Marcellus segment, which averaged 554 million cubic feet a day in the quarter, our highest quarterly volume ever and a 15% sequential increase over the second quarter '17."

"We are seeing an uptick in drilling and completion activity across our DJ Basin asset as operators experienced assess in drilling the Codell Niobrara formations in the northern extension part of the play. September volumes for this sub-system were up nearly threefold from year ago levels and are approaching our current 20 million a day of processing capacity. These are higher margin volumes and contributed to our sequential segment adjusted EBITDA growth in the overall Piceance/DJ segment.":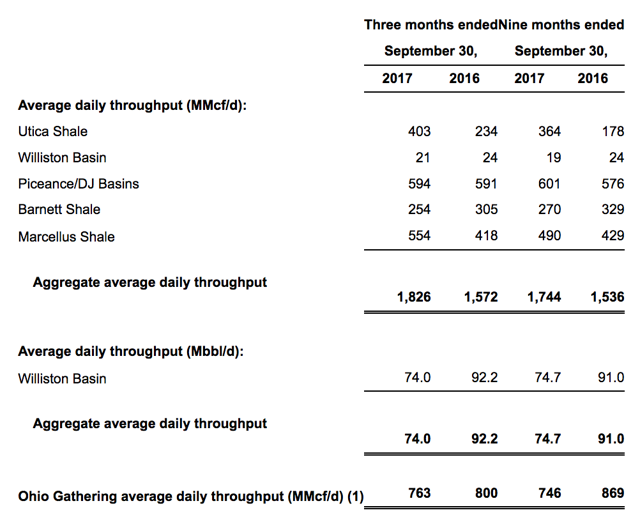 (Source: SMLP Q3 '17 Earnings release)
Looking back over the past four quarters shows a similar pattern – revenue and net income grew very well, but EBITDA and DCF not so much. The total distributions coverage fell from 1.27x to 1.16x, which is still a respectable figure, particularly as units grew by 7.69%, and bumped up total distributions by over 9%:

Distributions:
Management has kept the quarterly distribution at $.575 since November 2015. They commented on this on the earnings call, when asked if any distribution hikes might be in the offing:
"A distribution increase just really isn't in the cards currently."
Not very upbeat, but they did point out that, "Since 2014, 32 of the 50 Alerian Index constituents have effectively cut their distribution, either through an outright cut or a merger that resulted in a cut. Summit has not. And in fact, since 2014, we've grown our EBITDA by 12% per year. During that time, our distribution coverage has increased and our leverage metrics have remained constant."
Like many of the LPs we've covered, SMLP pays in a Feb-May-Aug-Nov. cycle. Unit holders receive a K-1 at tax time. You can track SMLP's current price and yield in our High Dividend Stocks By Sector Tables, (in the Basic Materials section).

Note: Investing in LPs and MLPs may present tax complications when done in an IRA. Additionally, since LPs usually make tax-deferred distributions, you'd reap more tax benefits by holding them in a non-IRA account. Please consult your accountant about this issue.
SMLP's distributions/unit coverage got back to a more typical level in Q3, rising from 1.11x to 1.17x, and has averaged 1.17x over the past four quarters:
Options:
We just added this March 2018 trade for SMLP to our Covered Calls Table, which tracks over 25 other trades daily. The March $20.00 call strike is at the money, and has a $.90 bid.

This trade includes one quarterly distribution ($.575 most likely) coming in early February. It allows you to hedge your bet with SMLP by taking in the extra $.90 in option premium. But the trade-off is that the $20.00 call is only $.35 above SMLP's $19.65 price/unit.
If your units get assigned before the February ex-dividend date, you'd end up with $1.25, the combo of the $.90 option premium and the $.35 assigned price gain. If they don't get assigned, your income would be $1.48, the $.575 distribution and the $.90 call premium.

SMLP's puts didn't look that attractive at press time, but you can see details for over 25 other trades in our Cash Secured Puts Table.
Risks:
Debt and Dilution – As with most LPs, which pay out the lion's share of their cash flow, SMLP has to access the equity and capital markets in order to grow. They currently have an at the market unit sales program under which they've issued 763K units in 2017 (but none in Q3 '17) for gross proceeds of $17.7M. Their net debt/EBITDA has risen slightly, from 4.23x to 4.46x over the past four quarters, but they're currently within all of their debt covenants.
Commodity Cycle – Although SMLP's contracts are fee-based, if there's another protracted downturn in energy prices, the finishing of its customers' DUC wells inventory could be pushed out further into the future, which would pressure SMLP's earnings.
Deferred Payment Liability: In addition to its current debt load, SMLP has a deferred payment due in 2020 as a remaining payment due for a 2016 asset drop-down from its Summit Midstream Partners Holdings LLC. Management arranged new financing in Q1 2017, with an eye to preparing for the 2020 payment, which was listed at $508.67M on the balance sheet, as of 9/30/17.
"The Deferred Payment calculation was designed to ensure that, during the deferral period, all of the EBITDA growth and capex development risk associated with the 2016 Drop Down Assets is held by the GP, Summit Investments. The Deferred Payment was structured such that SMLP will ultimately pay a 6.5x multiple of the actual EBITDA generated from the 2016 Drop Down Assets in 2018 and 2019."

"While we remain bullish about the outlook for volume growth for our Utica assets over the next several years, our current outlook for '18 is flatter compared to previous expectations, primarily due to volume growth and associated CapEx projects being delayed to the second half of 2018. This is the primary reason why the undiscounted value of our DPPO decreased in the third quarter and now stands at an estimated $656 million." (Source: Q3 earnings call)
New Developments:
New Preferred Units: Management just announced a new Preferred units offering today, 11/8/17. Normally, preferred offerings start out with a temporary ticker for the first few days, as institutional buyers accumulate them, (often at a price below the liquidation value). You can sometimes buy them under par also, and build in a small potential price gain, along with the yield.
However, Schwab had no ticker as of yet. The prospectus also had no yield data as of yet either, other than to mention that the units could be called in sometime in 2022, but that after 2022, they'd trade at a floating rate. There should be more information coming out over the next few days:
"Summit Midstream Partners, LP, announced today that it has commenced, subject to market conditions, an underwritten public offering of Series A Fixed-to-Floating Rate Cumulative Redeemable Perpetual Preferred Units representing limited partner interests in the Partnership. The Partnership intends to use the net proceeds from the offering to repay outstanding borrowings under its revolving credit facility and for general partnership purposes." (Source: SMLP site)

"Today, we are announcing an expansion of our existing 20 MMcf/d gathering and processing complex in northern Weld County, Colorado, with the addition of a new 60 MMcf/d processing plant. This $60 million expansion project is designed to support increasing volumes from existing customers. We are encouraged by the increased level of upstream development activity in and around our DJ Basin assets and we expect to place this project in service by the end of 2018. We plan to finance the project with excess distribution coverage and borrowings under our Revolver." (Q3 earnings call)
When asked on the earnings call about new developments with its customer XTO in the Delaware Basin (is a more mature sub-basin in the Greater Permian Basin), management was upbeat. "The opportunity with XTO in the Delaware is large. They've (got) 275,000 acres – they dominate the Northern Delaware from an acreage position. It's contiguous acreage as well too so that always helps. It's in three different blocks of acreage, and we just acquired right of way that basically cuts right through it, and saves us about a year of timing from a permitting standpoint."
Analysts' Price Targets:
SMLP is currently ~18% below analysts' average price target of $24.00.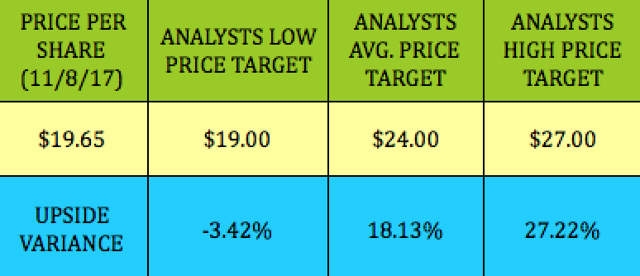 Curiously, although it has received upward estimate revisions over the past month, actual EPS estimates have only risen for 2017 during this time. However, the estimates for Q4 '17, 2017 and 2018 are all higher than they were 60 days ago:
(Source: YahooFinance)
Performance:
SMLP has had a rough time of it in 2017, lagging both the Alerian MLP ETF (AMLP) and the market.
Valuations:
This updated valuation table includes some other midstream firms we cover on SA – Arc Logistics Partners LP (ARCX), PBF Logistics LP (PBFX), Holly Energy Partners LP (HEP), MPLX LP (MPLX), Green Plains Partners LP (GPP), Martin Midstream Partners (MMLP), Delek Logistics Partners LP (DKL), and Plains All American Partners (PAA).
SMLP has the second-highest yield in the group, at 11.68%, while its 1.17x coverage factor is in line with the group average. At 7.35, its Price/DCF is in the lower tier of valuations, as is its 1.34 price/book valuation:
Financials:
Management has improved the company's ROA, ROE and operating margin considerably over the past four quarters. Meanwhile, the debt/equity and net debt/EBITDA have both crept up a bit.

SMLP's debt/equity ratio is one of the lower ones in the group, but they'll need to ramp up EBITDA to bring the net debt/EBITDA more in line. The operating margin is above average, but the ROA and ROE are both below group averages:
Debt and Liquidity:
As of September 30, 2017, SMLP had $506.0 million of outstanding debt under its $1.25 billion revolving credit facility and $744.0 million of available borrowing capacity, subject to covenant limits. Based upon the terms of SMLP's revolving credit facility and total outstanding debt of $1.306 billion (inclusive of $800.0 million of senior unsecured notes), SMLP's total leverage ratio and senior secured leverage ratio (as defined in the credit agreement) as of September 30, 2017, were 4.16 to 1.0 and 1.61 to 1.0, respectively.
SMLP redeemed its 7.5% Senior notes in March '17, which left it with no maturities coming due until 2022:

(Source: SMLP Q3 '17 10Q)
Summary:
We rate the SMLP common units a hold, but we may pursue a position in the new preferred series, depending upon the final yield structure. As is usually the case, the coverage for the preferreds will be even better than the common units. The long-term story for SMLP seems like it can work out, but we'd still like to see some growth in DCF and EBITDA in coming quarters before committing to the common units.
Preferred issuance by LPs seems to be on the rise in 2017. It makes sense, particularly if the market isn't supporting the common units' price. Issuing lower-yielding preferreds can offer the company a cheaper source of capital than doing a secondary IPO of common units, when their price has been depressed.
All tables furnished by DoubleDividendStocks.com, unless otherwise noted.
Disclaimer: This article was written for informational purposes only, and is not intended as personal investment advice. Articles posted on SA aren't meant to be all-inclusive white papers by any means. Please practice due diligence before investing in any investment vehicle mentioned in this article.
Disclosure: I am/we are long PBFX, MPLX, MMLP.
I wrote this article myself, and it expresses my own opinions. I am not receiving compensation for it (other than from Seeking Alpha). I have no business relationship with any company whose stock is mentioned in this article.