In early February of 2018 we published an article about the cooperation between AMD (AMD) and Intel (INTC), or as we dubbed it, AMD's hidden strategy against Nvidia (NVDA). Please read the original article for more background, but we will summarize some of the key points here.
AMD is now cooperating with Intel. Yes, indeed, hell just may be frozen over at the moment. AMD is selling Intel its Vega GPUs in silicon form, no IP transfer. Intel then packages these Vega GPUs on the same substrate with one of its CPUs to make what AMD calls an Accelerated Processing Unit (APU).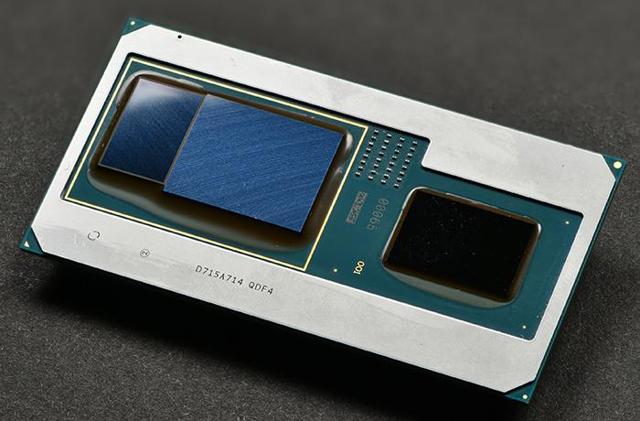 (Image of Intel CPU and Vega GPU attached to a single CPU socket board from Intel.com.)
The GPU communicates with the CPU via an 8x PCI-E bridge and shares power circuitry to create better efficiency.
Ok, so that sounds good for Intel, but aside from shifting more GPU cores, which AMD already has no problems doing, what is the benefit for AMD? Ah, but that's the "hidden strategy!" You see, one of the biggest hurdles AMD has to deal with at the moment is software support. Nvidia, AMD's GPU rival, has a stranglehold on the higher end gaming market at the moment. As a result, most of the games coming out on the market are optimized for Nvidia's GTX GPUs first, and are only later tweaked to perform well on AMD's hardware.
By partnering with Intel, AMD is able to push Vega GPUs into more mainstream computers. The Intel-AMD APU uses standard AMD graphics drivers and software, though the software bit is skinned with Intel branding. The more AMD equipped computers are out there capable of playing AAA game titles, the more likely are those games to be optimized for AMD first. AAA is an informal classification for top tier games from major studios, and those studios are likely to go for the largest possible market first and foremost. Now it's Nvidia, but in the future the market mix may shift to AMD thanks to the strategy outlined above.
We just recapped the strategy we think AMD is pursuing, now let's take a look at the first fruit of that strategy.
AMD and Intel had a Baby, and it's a Beast!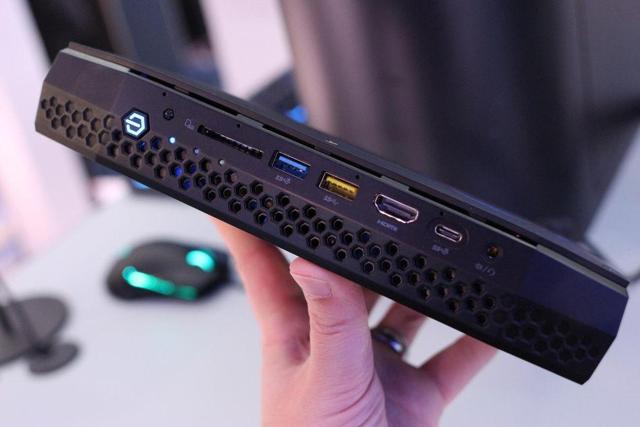 (Photo of Intel Hades Canyon NUC from cnet.com.)
Meet Intel's Hades Canyon Next Unit of Computing, or NUC for short. Hades Canyon NUC is a follow up to Skull Canyon NUC released in 2016. Skull Canyon was a big success for Intel sparking many similar small form factor gaming oriented living room computers from other manufacturers. However, it's biggest downside was its lack of dedicated graphics. Hades Canyon NUC addresses that shortcoming in a spectacular way.
Hades Canyon features Intel's I7 CPU combined with Radeon RX Vega powered graphics from AMD, all on a single chip, communicating over an 8x PCI-E bridge built directly into the substrate. This gives Hades Canyon enough horsepower to play real VR games or drive up to six monitors. Here is a quote from Sean Hollister from CNET.com who had first hand experience with Hades Canyon at the 2018 CES.
I can attest to that, because I strapped on an Oculus Rift connected to the Hades Canyon myself. The game Echo Arena looked butter-smooth on the system I tried on the CES show floor. I even got Intel to open up the back of its demo station, to prove it was running on this tiny box instead of a hidden gaming rig. Sure enough. How is this sorcery possible? It's thanks to one of the most surprising and unlikely pairings in silicon history: a new Intel processor with built-in AMD Radeon graphics inside.
Devindra Hardawar from Engadget tested Hades Canyon NUC with various game titles and found performance to be excellent for such a tiny device. According to the article:
Doom 3 ran between 50 and 60 frames per second with High graphics settings in 1080p. [..] It also had no trouble keeping up with a fast-paced game like Overwatch, where I saw between 60 and 90FPS in 1080p with Ultra settings. […] I was also blown away by how well it handled Hellblade: Senua's Sacrifice, a cinematic indie game that really taxes the GPU. Even with very high settings, it ran between 30 and 40 FPS, which is still playable. Knocking that down to high-quality graphics boosted performance to a smoother 50 to 60 FPS. Overall, the Hades Canyon NUC proved to be a capable 1080p gaming machine.
Devindra also tested the Hades Canyon NUC with Oculus Rift and found that games like Superhot, Duck Season, and Serious Sam VR ran flawlessly with no lag or dropped frames. On top of being a very capable living room gaming PC Hades Canyon NUC might be perfect for large scale VR experiences where players put on backpacks that carry computing hardware for tether free gameplay.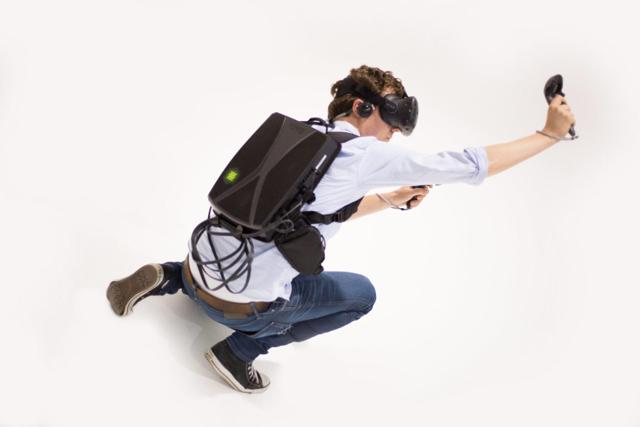 (Photo of a WALKER VR Backpack from Play3r.net.)
Investor Takeaway
Above we described AMD's hidden strategy of cooperating with Intel in order to further penetrate the gaming market and talked about the first fruit of that cooperation, the Hades Canyon NUC. According to CNET the new Intel-AMD APU is already slated to appear in the 15-inch HP Spectre X360 and Dell XPS 15 2-in-1 laptops later on this year, and we think it's just a start. This might just be the beginning of AMD GPU domination in the laptop and small form factor market. As AMD penetrates the gaming market more and more games will be optimized for AMD architecture first and foremost which should lead to performance improvements for the discrete AMD GPUs as well.
At the time of writing AMD is trading right around $10.08 down 2.7% for the day on a completely unrelated news coming out of Taiwan Semiconductors Manufacturing Company (TSM). TSM reported weakness due to softer than expected high end cellphone market, but they also reported that they expect high-performance computing chips to make up 40% of the company's growth over the next five years, from an initial estimate of 25%. TSM is a contract manufacturer for 7nm Vega GPUs and we believe that on a whole this is good news for AMD. We also think that panic selling exhibited today in Micron (MU) is completely unwarranted. If TSM sees growth in the high-performance computing market, that market will also need high performance memory to go along with those processors. But such is the market.
On a whole we are still very optimistic about AMD's prospects in 2018 and 2019, and still have $20 price target for AMD. Our optimism is bolstered by the industry reception of Hades Canyon NUC. We believe that soon OEMs will recognize the performance and efficiency advantage of Intel-AMD APU, and then they just might start wondering, if Intel-AMD APU is so good, how good is an all AMD APU?
Disclosure: I am/we are long AMD,AAPL,MU.
I wrote this article myself, and it expresses my own opinions. I am not receiving compensation for it (other than from Seeking Alpha). I have no business relationship with any company whose stock is mentioned in this article.