Intro
Those familiar with my other articles (here & here) regarding the crypto-space will know I am a holder of XRP, the digital currency created by the company Ripple. While I have spent some time comparing Ripple and XRP to other blockchain technologies such as Ethereum and Bitcoin (COIN) (OTCQX:GBTC), I thought that it was appropriate to examine just Ripple in more depth and examine ways to invest in this private company. Before we get into XRP itself, the use-case, the viability and the adoption, first let us look at the company responsible.

(Image Source)
Ripple (The Company)
Ripple is a private company based in the U.S. with offices around the globe in London, India, Singapore, Luxembourg and others (Visit their website here for more information). They have raised money with a variety of prominent companies and potential customers such as Seagate (STX), Santander (SAN), Andreessen Horowitz and Google Ventures (GOOG), (GOOGL) among others.
Leadership
In September 2012, Chris Larsen and Jed McCaleb co-founded Ripple (called OpenCoin at the time). They also incorporated ideas and technology created by Ryan Fugger, who had developed a system called RipplePay that was "decentralized and empowered individuals and communities to create their own money". The three joined forces, but by July 2013, Jed McCaleb left the company (this is important and I will address it in a future article).
Ripple's CEO is Brad Garlinghouse, who has a long history working at Yahoo!, AOL and other communications companies.
David Schwartz (known to the crypto-community as "JoelKatz" on various social media) is Ripple's chieg cryptographer. He has developed similar software to that Ripple provides (encryption and purpose wise not blockchain) for prominent organizations such as CNN and the NSA.
Ripple recently added Benjamin Lawsky as a board member. This is notable because Mr. Lawsky was one of the primary contributors to the "BitLicense" regulation passed in New York State. Interestingly, Ripple was the fourth company to receive a BitLicense.
The company also hired a new CFO at the same time as appointing Mr. Lawsky to the board, Ron Will. Mr. Will has previously worked as a senior financial executive, investment banker, and lead the successful acquisition of "TubeMogul" by Adobe last year. Both of the aforementioned hire's were announced in late November, 2017.
Technology
Since being founded in 2012 under the name OpenCoin (changed to Ripple in 2015) Ripple has developed a variety of software solutions that utilize blockchain technology. Currently all of the products that are production ready are geared towards financial institutions like banks and credit providers with the goal of making it faster and cheaper for them to move money.
To see where Ripple fits in in the blockchain realm, I found this graph informative: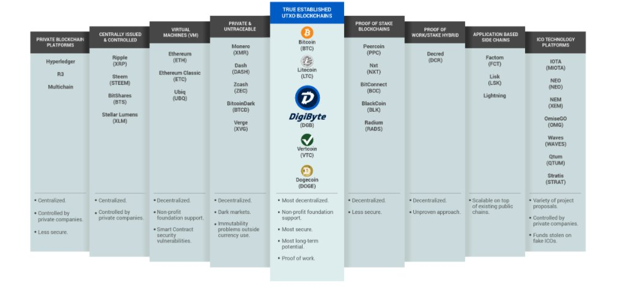 (Image Source)
One thing important to note is that although Ripple is listed under the centrally issued and controlled section, while that is currently true and will remain so overall, they do have a plan in place to decentralize the control of the network nodes as more people utilize the technology. This involves them shutting off two nodes they control for every one that comes online elsewhere. Additionally, as I will explain later, they are releasing XRP into the wild from their control.
Their current suite of products (collectively called RippleNet) includes xCurrent, xRapid and xVia of which I will describe below:
xCurrent
xCurrent is an "enterprise software solution that enables banks to instantly settle cross-border payments with end-to-end-tracking." It's underlying technology is powered by the ILP, or interledger protocol, which "enables interoperation between different ledgers and networks" offering "cryptographically secure, end-to-end payment flow with transaction immutability and information redundancy."
The four components of xCurrent are the bi-directional messenger (allows banks to determine FX rates, KYC [know your customer] verification, fees, etc.),the validator (confirms success or failure of payment), the ILP ledger and the FX ticker (provides rates for foreign exchange).
Basically ILP allows for different block chains to communicate with each other and the xCurrent software built upon it allows financial institutions to utilize it to send, track, and verify payments in any currency very quickly (less than a minute). This technology can be thought of as very similar to companies like SWIFT, which currently handle messaging for financial institutions to complete payments between each other.
ILP was developed by Ripple and subsequently open-sourced (see more information on ILP here).
Here is a video by Ripple explaining their xCurrent software process:
(Video Source)
xRapid
Ripple explains xRapid as a solution "for payment providers and other financial institutions who want to minimize liquidity costs while improving customer experience". Basically, it allows for cross-border payments between banks in a way that moves the funds much quicker, tying up less money for less time.
xRapid utilizes XRP to move the funds around, unlike xCurrent which can use XRP but it is not baked-in or required. This is advantageous for banks because instead of having to send money through 3 or 4 intermediary banks to get it from one country to another, with the amount of money being sent being ear-marked at each stop along the way and "tied up" in that transaction until all parties can verify the money has reached the destination (and left the sender), banks can simply swap the value into XRP and out of XRP into the recipients bank directly. This also utilizes ILP and is currently in "early access" mode.
xVia
Also in "early access", xVia is Ripple's product tailored towards corporations and banks "who want to send payments across various networks using a standard interface". It allows the payments to have attached invoices, and is basically the same thing as xRapid or xCurrent but geared mostly towards business to business payments. This technology can utilize XRP but does not require it.
Recent Developments
In one recent development that I was going to discuss in a future article but has occurred since I initially submitted this article is escrow for Ripple. Mentioned in my past articles, this means Ripple has tied up 55 Billion XRP in smart contracts that will unlock 1 Billion XRP each month.
This was announced several months ago but the follow through is important for Ripple. In the recent days since the escrow has occurred XRP has climbed from .22-.29 cents on US exchanges.
Upcoming Headwinds & Catalysts
Ripple has a number of significant developments approaching that are potentially good and bad for the company. These are as follows:
1) Ongoing lawsuit with R3
2) Deployment of xRapid & xVia beyond testing
3) Ongoing development of regulation
4) Competitors catch-up or surpass technology (SWIFT, R3, Santander, Stellar, etc.)
5) Continued expansion of client base (exchanges and other FI's)
6) Implementation of Codius (smart contract software on the RippleNet)
In order to keep this article as focused as possible, now that we have covered the main technology, background and leadership for the company I will discuss one past event that is important to be aware of before making an investment decision and then discuss alternative ways to gain exposure. Future articles on Ripple will examine each of these catalysts in much more detail in regards to the company, the companies investors and XRP directly. To be notified upon their release, please consider following me by clicking the appropriate button at the top of this page.
FinCEN Fine
One thing that any potential investor in XRP or Ripple should be aware of is the FinCEN (Financial Crimes Enforcement Network) Fine Ripple received in May of 2015. Ripple was fined $700,000 for violation of the Bank Secrecy Act in regards to anti-money laundering additions to the act.
Ripple was deemed to be in violation of the act due to practices through which they were selling/buying XRP and were told to make changes to the Ripple Protocol and conduct all "Ripple Trade" activity through "registered money services businesses" instead. This basically means that since 2015 third parties have been in charge of buying and selling XRP into the market for Ripple and should be seen as very important for investors who are skeptical that Ripple is manipulating the price.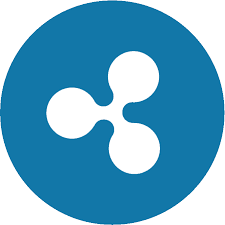 (Image Source)
Ripple (The Token)
Now that we have laid-out the ground work for understanding the origins of the company, their products, leadership team and mentioned some of the potential catalysts (good and bad) for the company, let us attempt to come to a reasonable valuation for XRP the token to see what the potential price ceiling is for it in their current product suite. Why do we (or Ripple) care what the price is of XRP is? Because Ripple currently holds the vast majority (over 60 Billion units) of XRP. If the price appreciates before Ripple sells it, this translates into direct revenue realization for the company.
Taking the 100 Billion XRP in existence (and the highest number that ever can exist due to the fixed supply) and SWIFTS transaction volumes (international only) you get a market of $153 Trillion dollars. If all of this is stored in XRP at once (ignoring any funds that are used to create a wallet and are not in circulation) the value of each of the 100 Billion XRP would be $1,530. Assuming average volume each day of the year, this would be $4.19. If one were to suppose the transactions only occur on roughly 250 business days a year this would equate to $6.12 per XRP. What if only 10% of SWIFTS business uses XRP? This would result in a value of $150.30 if it was all stored in XRP at once, or .41 cents at 365 days of average volume or .60 cents if calculating at 250 business days. With XRP at a price just below .25 cents currently, even the most conservative estimate made above (10% of SWIFTS market spread evenly though 365 days with all 100 billion XRP available) represents an increase of just over 60%.
| | | | |
| --- | --- | --- | --- |
| Share of SWIFT | Price of XRP (assuming 365 days) | Price of XRP (assuming 250 days) | Potential Upside from Current Price |
| 10% | $0.419 | $0.612 | 67%-145% |
| 25% | $.98 | $1.44 | 292%-476% |
| 100% | $4.19 | $6.12 | 1,575%-2,348% |
Of course, with peer to peer payment applications a possible future offering and other applications like for the internet of things, the market for Ripple and XRP is much larger than outlined above. I have used SWIFTS annual transaction volume as a peg in order to arrive at a realistic valuation based on the companies current agenda. With gains between 67% and a mind boggling 2,348% when just targeting one competitors annual transaction volume, it seems if XRP is adopted in any meaningful way it is wildly undervalued today.
As more and more banks sign up to use xCurrent and make the switch to xRapid, and more businesses start utilizing xVia the adoption trend should only accelerate. If Ripple partners with Google, Alibaba (BABA) or another company to provide xRapid as a backend for their payment app like AndroidPay, AliPay, SamsungPay, Venmo, Square (SQ) the total addressable market will rise quite rapidly.
In Conclusion
There are a lot of ongoing or upcoming events and decisions that will effect the quality of Ripple or XRP as an investment going forward. Since XRP being adopted is not required for Ripple's success (since xCurrent does not use it), it is inherently riskier to invest in XRP and not the entire company. Due to the risk that xRapid (and subsequently XRP) or other software they provide that utilizes XRP is never adopted in a meaningful way, it may be best for conservative investors to hedge an investment in Ripple by investing in Santander, Google, or another Ripple investor like Seagate or SBI Holdings of Japan.
For those looking for long-term (2-5+ years) higher growth opportunities and more direct exposure, one could investigate purchasing XRP, but I would advise you to consider hedging with an investment in a competitor like Stellar's XLM.
Moving forward in this series we will look at upcoming catalysts for Ripple both internally (new products, new clients, new employees) and externally (competitors, regulation, etc.) and determine if investing in the company at all is a good idea.
If you wish to receive more information regarding cryptocurrencies such as Ether, XRP or Bitcoin, please take a second to follow me so you can be notified of future articles.
Disclosure: I am/we are long GOOGL, GOOG VIA ETF.
I wrote this article myself, and it expresses my own opinions. I am not receiving compensation for it (other than from Seeking Alpha). I have no business relationship with any company whose stock is mentioned in this article.
Additional disclosure: I am a long-term holder and trader of BTC, LTC, ETH and XRP.