A painful 2-year TBTF "core holding"
General Electric Company (GE), a perpetual member of the Dow-Jones 30 stock index has evolved through several commercial "lifetimes", demonstrating that it truly is "too big to (need to) fail". Recasting its owned business components as though they were just "portfolio holdings" has been characteristic of the company's established culture.
A new CEO is in the process of putting his brand on the portfolio, giving investors refreshed hopes of regaining a turn-of-century stock price high of $58, continuing a recovery from 2008-09 market low under $10.
The current price of $20 is a 2-year slump from an interim high of $34 as investors became disenchanted with recent management inheritors of the effects of an earlier, ably-promoted CEO who had the cover of market gyrations in this new 21st century.
Will institutional investors climb back aboard GE?
Right now, institutional ownership has declined to only 56% of GE's market capitalization.
The best place to test institutional investor acceptability on GE is at the point of volume (block trade) market orders. These are handled by a market-making [MM] community which negotiates the placements of single trade orders large enough to make a difference in a $-Billion-plus portfolio.
Markets usually are not "deep" enough to allow the near-instant "filling" of such orders, so the MM involved often will "position" the "stub end" of the trade that is, at the moment, unacceptable to the market at the price being required.
The MM will only do so if a hedging deal can be negotiated that will hold the firm's capital safe from the risk of unwanted market price moves while it has that exposure. The prices and structure of the hedges involved are a statement about how far these market professionals (both the buyer of the protection and its seller, often a MM's prop-trade desk) agree the subject's price might move – in either direction.
How does that look now for GE?
Figure 1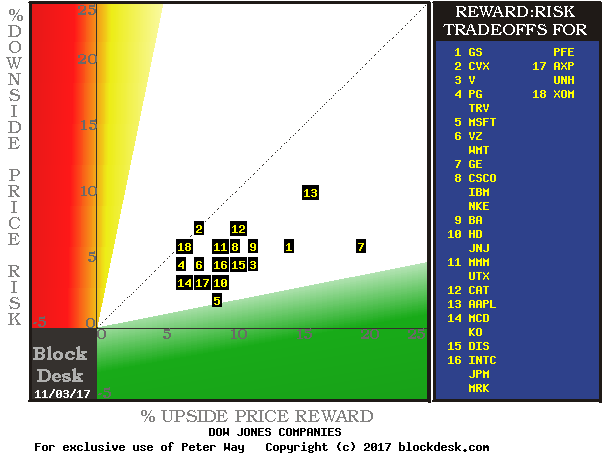 (used with permission)
Figure 1 looks at the implied upside price changes resulting from the hedges needed currently to fill institutional volume trades on all of the 30 Dow Jones Index stocks. Those upsides are measured on the green horizontal scale.
The numbered locations are defined by the intersections of the upside reward forecasts with actual worst-case percentage price drawdowns in each stock, following prior forecasts of the past 5 years which were similar to those seen today. The drawdowns are measured on the red vertical scale.
Good on this map is down and to the right. Locations above the diagonal dotted line are of stocks where past experienced price risks have been larger than current offered prospective gains. The "best" boundary today is defined by GE at [7] and Microsoft (MSFT) at [5].
For investors looking to build capital wealth, rather than those simply seeking current dividend income, GE seems to present an attraction. But many have seen this show before. May it have a more satisfying outcome this time?
Here is a look at similar forecasts of the last 5 years:
Figure 2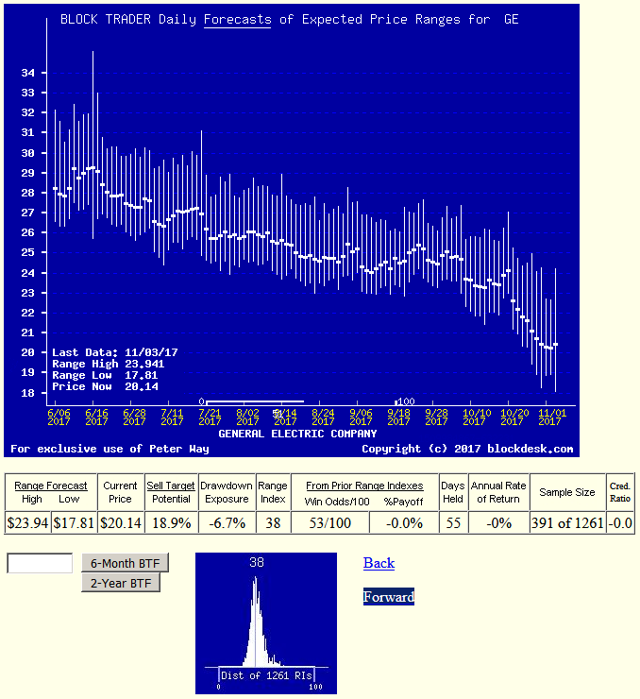 (used with permission)
Caution! This picture is not the conventional "technical analysis chart" of past price ranges. Do not jump to conclusions of what it shows. Instead of looking backwards in time at what has happened, the vertical lines here are Market-Maker [MM] forward-in-time forecasts of what is believed likely to occur as price extremes in the coming few months.
The vertical price-range forecast lines of Figure 2 are split into upside and downside prospects by the heavy-dot end-of-day market quote for the issue on the day of the forecast. A measure of the imbalance between up and down possible price change implications is the Range Index [RI], which tells what percent of the whole forecast range lies to the downside. On Friday the 3rd it is 38, indicating almost 2 times as much upside (100-38=62) as downside.
The distribution of RIs pictured at the bottom of Figure 1 shows that while GE occasionally is viewed with large upside or downside price change in prospect, at this point it is well centered on its usual scope of expectations.
What is of interest is that the level of price uncertainty has widened out in the past day to include both higher and lower potential coming prices than what has been seen recently, relative to the day's closing market quote.
Those extremes suggest the possibility of a nearly +19% upside from Friday's close, or a target of almost $24. Now $2 on a $20 stock may seem less than important, but if it was the start of a trend that could be extended for a year, the 20% gain would compound 4 times into a possible double, a +100% gain. Interested now?
Well, please keep in mind that the MM forecast, while derived from real-money bets in leveraged derivatives made by experienced, well-informed market professionals, they may well be balanced by other prospects of equal likelihood in the opposite direction. And the derivative contracts involved likely will have lifetimes of no more than a few months, so extending their implications beyond that period may be an exercise in fantasy.
Instead, let's look at what has actually happened, on average, to the 391 prior MM forecasts for GE that had RIs of 38. It turns out that only 53% of them actually ended within 3 months of having any profit, let alone reaching their forecast sell target. The net results under a standard, disciplined portfolio management procedure was a trivial net negative average of less than -1%. But a loss, nonetheless, not a +19% gain.
This time could be different. In 207 cases (53% of 391) it was. But are you an odds-player? Ed Thorp (Beat the Dealer author) says you should be. If you are, there are probably are many other better bets to be made.
Just for comparison sake, let's look at the other best current Reward vs. Risk tradeoff among the DJ-30 stocks, MSFT. Here is what the MMs have to say about its current possibilities: Figure 3.
Figure 3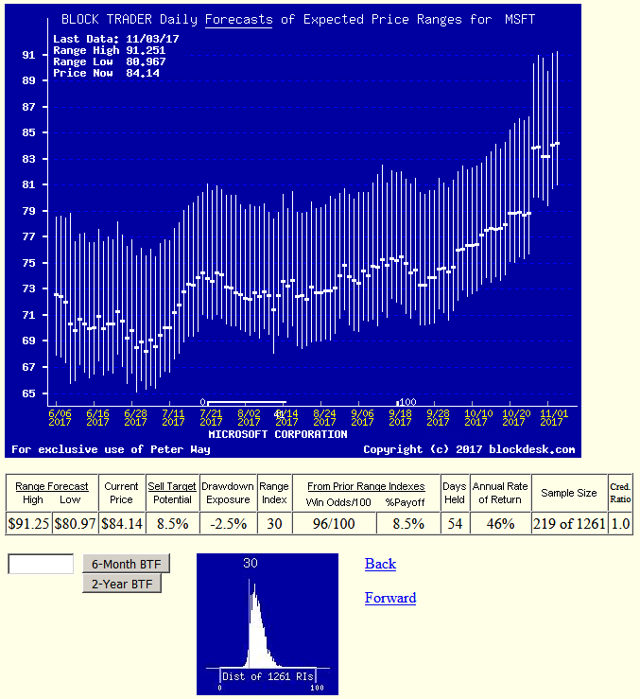 (used with permission)
Now there is a much more encouraging picture! Both prices and price expectations of what is yet to come are rising.
But have they risen too much, too far, too fast? What do the odds say?
The current forecast Range Index is 30, with more than twice as much upside as down. And MSFT's typical RI forecasts are usually higher than 30, which usually calls for higher price expectations than at present.
Still, trends don't grow to the sky, how likely is a profit when initiated at this kind of a forecast level? So far, in over 200 instances, they have come up with gains 96% of the time. With gains, net of losses, of +8.5%, just the same size as what is currently expected.
And in the past it took positions taken under forecasts like this only 54 market days to pay off, that's a day shy of 11 weeks. It could be repeated over 4 times in a year, and if done would compound to +46%. Hmmm.
Conclusion
Maybe MSFT would be a better choice than GE for right now. Perhaps giving GE a little more time to see how Institutional investment organizations continue to appraise GE's attractiveness may provide a more competitive, odds-on opportunity for portfolio wealth-building.
After all, a potential double is more than twice +46%.
But the prospect of a double remains to be seen. Let's wait a bit.
Additional disclosure: Peter Way and generations of the Way Family are long-term providers of perspective information, earlier helping professional investors and now individual investors, discriminate between wealth-building opportunities in individual stocks and ETFs. We do not manage money for others outside of the family but do provide pro bono consulting for a limited number of not-for-profit organizations.
We firmly believe investors need to maintain skin in their game by actively initiating commitment choices of capital and time investments in their personal portfolios. So our information presents for D-I-Y investor guidance what the arguably best-informed professional investors are thinking. Their insights, revealed through their own self-protective hedging actions, tell what they believe is most likely to happen to the prices of specific issues in coming weeks and months. Evidences of how such prior forecasts have worked out are routinely provided. Our website, blockdesk.com has further information.
Disclosure: I/we have no positions in any stocks mentioned, but may initiate a long position in MSFT over the next 72 hours.
I wrote this article myself, and it expresses my own opinions. I am not receiving compensation for it (other than from Seeking Alpha). I have no business relationship with any company whose stock is mentioned in this article.