In mid-January, when markets were still relatively calm, we published an article about O'Reilly and how it could benefit from the widening price gap between used and new cars that would lead to consumers keeping their cars a bit longer. We bought the stock, as we had mentioned, when it broke through a $260 resistance level. Since then, the stock has come back down to levels we think are once again a good buying opportunity. Below is the article in its entirety with an updated price chart below the original.
It's a never ending battle of making your cars better and also trying to be better yourself. – Dale Earnhardt
Late last year, the lease on my car was expiring and I needed to make a decision on whether to lease another car, or exercise the option to buy my current car at the contractual residual value. At the time my car only had 27,000 miles, which, for a 2013 was quite low. Based on a back of the envelope valuation with the help of Kelley Blue Book, I decided to buy it.
Based on the surprisingly high value indicated by the Kelley Blue Book estimate, I wondered how the price/value of a used car compared to a new car and whether there might be periods when it was better to buy or lease new versus periods when it was better to buy a used car. It turns out there is.
The chart below shows the CPI Index for both new vehicles and used cars and trucks. As the two lines indicate, prices declined significantly during the recession, particularly for used vehicles. As we approached the end of the recession and jobs were being created, the price of both new and used vehicles started recovering. But used car pricing increased dramatically during this period. Partly because of a lack of financing options for new cars and partly because consumers were probably treading lightly after the worst recession since the early 1930s. From 2010 to mid-2014, price inflation for used cars remained above those of new cars – at least using 2008 as a base.
But the index for used car prices started trending downward and accelerated its downward trajectory in 2016, while new car pricing continued to creep higher. The result is that the cost of a new car today relative to a used car is at its widest spread in at least 10 years. Translation: used cars are cheap relative to new cars – and I'm assuming that leasing and buying is the same thing – after all, a lease is based on the sales price of the car.

So I started to think about investment ideas that would benefit from what I predict will be a slowdown in the purchases of new cars in favor of either keeping current cars longer or deciding to buy a used car instead. As I cross referenced our several equity screeners (Growth at Reasonable Price, Asymmetrical Return/Risk, and Dividend Growth), I came across O'Reilly Automotive Inc (ORLY)
Profile
O'Reilly Automotive, Inc. is a specialty retailer of automotive aftermarket parts, tools, supplies, equipment, and accessories. It primarily operates in the United States, with Texas and California as its largest markets with 670 and 530 stores in each. It operates a single business segment which involves supplying new and remanufactured automotive hard parts, maintenance items, and a complete line of automotive tools and professional service equipment. It offers its products to do-it-yourself (DIY) customers and Do-It-For-Me (DIFM) customers including professional mechanics, and service technicians.
Business Segment
O'Reilly operates in a single business segment supplying automotive aftermarket parts, tools, supplies, equipment and accessories to DIY and DIFM market segments in the United States. DIY customers are consumers who repair and work on their own cars. DIFM customers include commercial installers including auto repair shops, gas stations, fleet operators, parts resellers who provide installation and repair services, and car dealer service departments. In FY 2016, O'Reilly derived approximately 58% of its sales from DIY customers and 42% from the DIFM customer segment. The DIFM segment is expected to contribute a greater share of future growth because it is the least price-sensitive market.
When prices for parts rise, professional mechanics and service providers are less likely to change their demand and will pass along the added cost to the consumer. In the case of the DIY market, new cars are now too complicated for most owners to fix or maintain by themselves so they are more likely to take their car to the shop for needed repairs. Nonetheless, households and individuals remain the major market segment, contributing 61.5% of the industry's revenue.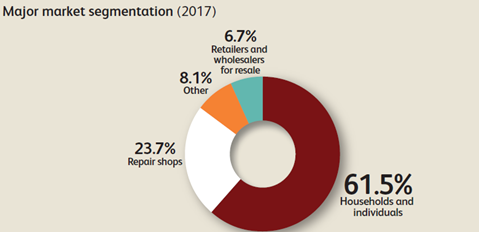 Source: IBISWorld
Strategy
O'Reilly operates through a "dual market strategy" which means that it serves both the DIY market and the DIFM market. Much of the company's competitive edge is attributed to the successful execution of this dual market strategy. This strategy enables the company to target a larger customer base for automotive aftermarket parts, capitalize on existing retail and distribution infrastructure, and operate profitably in large markets and even in less dense areas that attract fewer competitors. Such a strategy also enhances the service levels offered to DIY customers because of its broad inventory and extensive product knowledge required by professional service providers whom O'Reilly also caters too.
Other sources of its competitive advantage include a strong distribution network and broad portfolio of widely known brands. It operates 27 regional distribution centers – 19 owned with a total of 10.6 million square feet. It also has five-night-a-week delivery via a company-owned fleet. As of June 30, 2017, the company had 4,934 stores in 47 states and over 75,000 employees. Its merchandise generally consists of nationally recognized, premium brands like AC Delco, Bosch, Armor All, Castrol, and many other high-quality brands.
In the coming years, O'Reilly intends to implement the following growth strategies: aggressively open new stores, grow sales in existing stores, pursue strategic acquisitions, enhance store design and location, and enhance its e-commerce website. The company is expanding its nationwide presence by opening new stores at a rapid rate. In 2017 alone, it opened 190 stores. The figure below illustrates O'Reilly's aggressive nationwide expansion. As of December 2016, the company has also acquired 48 stores from Bond Auto Parts and plans to open 200 new stores in 2018.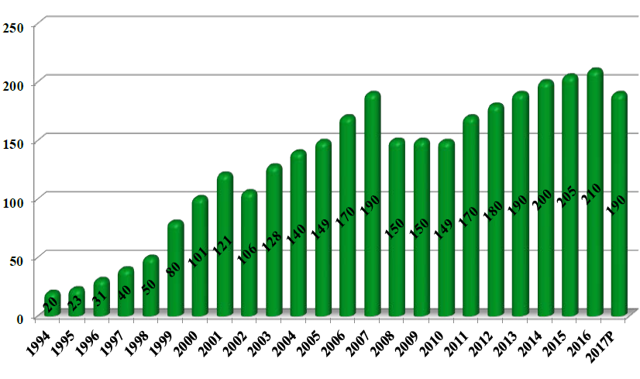 Source: O'Reilly's Investor Presentation
The company has also been investing heavily on technology. It is implementing a voice-picking technology in its distribution centers, rolling out routing software to improve logistic efficiencies, and making proven return-on-investment-based capital enhancement in material handling equipment such as conveyor systems, picking modules, and lift equipment.
In terms of marketing and sales, O'Reilly leverages television, radio, direct mail and newspaper advertisements, in-store and online promotions, and sporting event sponsorships. It also participates in cooperative advertising with its vendors. It sponsors nationally-televised races and more than 1,600 grassroots, local, and regional motorsport events in 47 states.
Recent Results
O'Reilly reported revenues of $8,5 billion in revenues for FY2016, an increase of 7.9% from FY2015. For the third quarter ended September 30, 2017, the company reported sales of $2.3 billion, operating income of $461M, and net income of $284M.
In nine months ended September 30, 2017, the company reported sales of $6,7 billion, operating income of $1,3 billion, and net income of $831K. It expects total revenue of $8.9 billion to $9.0 billion for FY2017.
For the past three years, O'Reilly has shown strong financial growth and the trend is expected to continue considering its aggressive expansion through additional stores and Bond Auto Parts stores acquisitions.

Source: Mergent Online
Analysis
O'Reilly doesn't pay a dividend so it is probably not attractive for income-seeking investors. However, looking at the company's financial progress over the years reveals some very attractive trends:
Margins across the board have increased. For example, gross margins increased from 44.5% to 52.6% over the last 10 years, while operating margins increased from 9% to 19.5%.
Return on equity has increased from 15% to over 83% on a trailing 12 month basis. The biggest driver of this increase was due to an increase in leverage, but asset turnover has also increased as has net profit margin.
Using supply chain financing, cash conversion cycle has been reduced to 5 days, better than all of its closest peers.
And some not so attractive trends:
Debt to Equity has increased from less than 1.5 in early 2017 to 4.7 as of September 30th, 2017. Times interest earned also decreased but is still at a very healthy 21x
Current ratio has steadily decreased from 1.25x to less than 1x
Cash from operations declined slightly from the year ago period.
Business Drivers
The key drivers of current and future demand of its products are number of miles driven, number of registered light vehicles, and unemployment rates. The primary business driver for the industry is total miles driven. With the lack of comprehensive mass transit in the U.S., the company expects modest improvements in total number of miles driven in the U.S. as supported by increasing number of registered vehicles and sustained employment levels. Moreover, declining gas prices since 2015 has contributed to the steep increase in the number of miles driven resulting in more vehicle wear and tear and rising demand for replacement and maintenance parts and tools. Likewise, the average age of vehicles increases due to constant scrappage rates (a rate of new car sales under the ten-year trend) and overall quality of vehicles. As the average age of vehicles increases, a larger percentage of the miles driven are outside of the manufacturer's warranty period. These out-of-warrant older vehicles generate a stronger demand for aftermarket products especially in case of routine maintenance cycles and more frequent mechanical failures.
Given these demand drivers, the U.S. automotive aftermarket industry is expected to have strong growth in the coming years. According to industry estimates, the market is forecast to grow at a CAGR of 3% from 2016 to 2018, to reach a total value of $284 billion in 2018. O'Reilly should leverage this high growth in the market to generate revenues and profits.
Industry Analysis
The U.S. automobile parts retail industry has about 37,000 establishments (single-location and multiple-location companies) with combined annual revenue of $53 billion. With a CAGR of 3.4%, it is expected to grow at an estimated $273.4 billion according to Automotive Aftermarket Suppliers Association (AASA). O'Reilly claims that in this industry landscape, its addressable market amounts to $161 billion.

Source: IBISWorld
The U.S. industry is largely concentrated, with the ten largest companies accounting for about 50% of the market size. The 50 largest companies generate about 60% of the total industry revenue; four largest companies contributing about 45%.

Source: O'Reilly's Investor Presentation
Outlook
Overall, O'Reilly is in a favorable position in light of the demand for used cars vs. new cars. The external key drivers (increased miles driven, favorable economic conditions, decreased price of gas, etc.) combined with its key strategies (dual market, aggressive expansion, selective acquisition) put the company in a strongly competitive position that will continue to boost its profitability.
Valuation
From a valuation perspective using a multiple analysis, ORLY looks attractive on a relative basis compared to peers as well as its own five-year average. As the chart below indicates, the current PE ratio of 22 is considerably lower than the high reached in late 2015 of 31.25, despite a steady increase in earnings per share.
We believe the stock is poised for additional earnings growth and multiple expansion and is well-positioned to benefit in the event of an economic downturn – one in which consumers may postpone their purchases of new vehicles.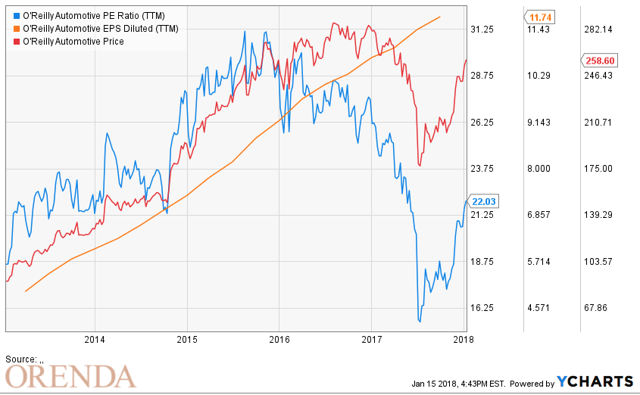 Income Enhancement
There isn't a very attractive option to use for enhancing income. However, for investors looking to generate some income from a position in ORLY who are willing to give up some upside, you may want to consider selling a call option expiring in January 2019, with a current bid of $22.70 and strike price of 280. Assuming a 100 share purchase to coincide with the sale of 1 contract (representing 100 shares), this would result in an estimated income yield from the option premium of around 1% – and if the stock is called, would result in an additional return of 10.6%.
There is also the possibility of the company buying back more shares, which has been the primary driver of a shareholder yield of 12% over the last 12 months.
Our Take
Despite our bullishness on the used car parts industry and ORLY's improving financial performance, on a technical basis, the stock looks indecisive flirting with the $261 level and supported by $240. We would like to see some conviction to the upside before dipping a toe in and we are conscious of a possible pullback to the $240 level. We would be buyers on a breakthrough to the upside or a pullback to the $240 level. We bought when the price broke to the upside.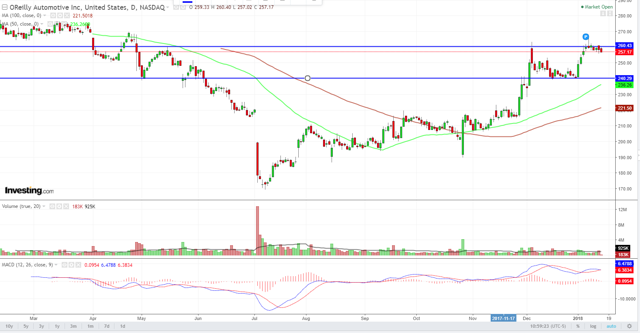 Today, the price of the stock is back down to $252 after once again testing the $240 level. We believe its another good entry point and this time, we expect the price to surpass the recent high of $280.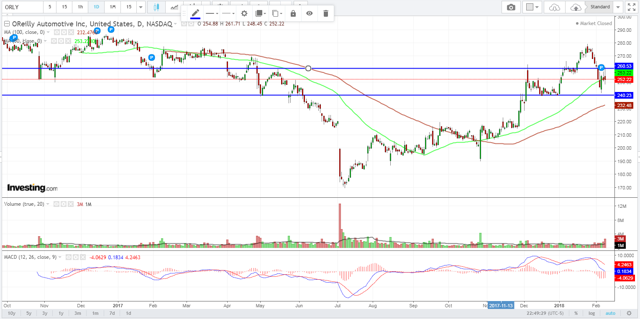 See, when you drive home today, you've got a big windshield on the front of your car. And you've got a little bitty rearview mirror. And the reason the windshield is so large and the rearview mirror so small is because what's happened in your past is not near as important as what's in your future. – Joel Osteen
End of Article
Disclaimer: Please note, this article is meant to identify an idea for further research and analysis and should not be taken as a recommendation to invest. It is intended only to provide information to interested parties. Readers should carefully consider their own investment objectives, risk tolerance, time horizon, tax situation, liquidity needs, and concentration levels, or contact their advisor to determine if any ideas presented here are appropriate for their unique circumstances.
Past performance is not an indicator of future performance.
Investing in any security has risks and readers should ensure they understand these risks before investing.
Real Estate Investment Trusts are subject to decreases in value, adverse economic conditions, overbuilding, competition, fluctuations in rental income, and fluctuations in property taxes and operating expenses.
This post is illustrative and educational and is not a specific offer of products or services.
Information on this blog is not an offer to buy or sell, or a solicitation of any offer to buy or sell the securities mentioned herein, nor is the author compensated by any of the products mentioned.
Information presented is believed to be factual and up-to-date, but we do not guarantee its accuracy and it should not be regarded as a complete analysis of the topics or subjects discussed.
Information presented is not believed to be exhaustive nor are all the risks associated with the topic of each article explicitly mentioned. Readers are cautioned to perform their own analysis or seek the advice of their financial advisor before making any investment decisions based on this information.
Investment decisions should be based on an individual's own goals, time horizon, and tolerance for risk. Nothing in this content should be considered to be legal or tax advice and you are encouraged to consult your own lawyer, accountant, or other advisor before making any financial decision.
All expressions of opinion reflect the judgment of the author, which does not assume any duty to update any of the information
Any positive comments made by others should not be construed as an endorsement of the author's abilities to act as an investment advisor.
For first-hand access to this and other articles and exclusive access to many others, sign up for a two-week trial to REITs, Opportunities, & Income.

Disclosure: I am/we are long ORLY.
I wrote this article myself, and it expresses my own opinions. I am not receiving compensation for it (other than from Seeking Alpha). I have no business relationship with any company whose stock is mentioned in this article.